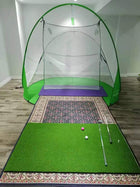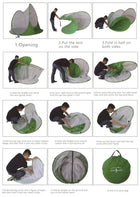 Pick up only

Pick up address:
26 Gormley Ct,
Richmond Hill, ON L4E 1A2
Canada

Home Range, Your Driving Range at Home!

Practice makes perfect!

Home Range makes practice fun and more!

Foldable Golf Practice Tent,  a wonderful driving range at home for golfers. 

It's  whole in one!

Safe
Durable
Solid
Lightweight
Flexible

With it, golfers can golf indoors and outdoors, anytime and anywhere!  

The foldable Golf practice tent is designed with safety, durability, portability in one. You'll be able to practice for hours of hitting thousands of balls to upgrade your skills indoor and outdoor, anytime and anywhere. You can set up your own driving range at home, and practice everyday without worry about anything!

 

PRACTICE FROM HOME: Bring all the benefits of the driving range directly to your home with our newest groundbreaking product. This package includes (1) 2.5x1.9x2.2 M

 

(set up dimensions: 6′ 6″h x 8'w x 7′ 6″d)

 

Foldable Golf Practice Tent, (1) Floating Hitting Net, (3)Support Sticks, (4)Mounting Hooks, and(1) Carry Bag.
INNOVATIVE NEW DESIGN: New tent feature invites practice of the most demanding of shots. Practice aggressive shots you've always wanted to attempt on the course.
SWING WITH CONFIDENCE: From your Wedge to your Driver; you will have the confidence to hit thousands of balls. Designed to take a beating, this net will hold up to even the most rigorous of practice sessions.
EASY TO SET UP AND FOLD: With an elastic structure, you can set up and fold it easily in seconds.