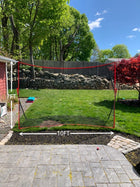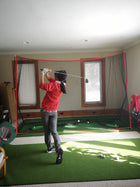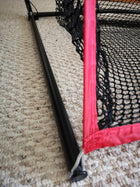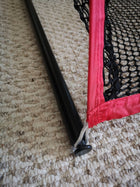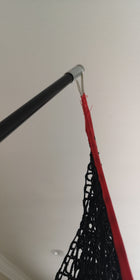 Pick up address:


26 Gormley Ct,
Richmond Hill, ON L4E 1A2
Canada

Model: Auto-back Hitting Net

Overall size: 10' x 7' x 3' 3.1x2.8x2.3m, 12kg
Carry case size: 44" x 8" x 4"
Carry case material: 600D Oxford cloth
Material: Iron Frame, Steel Pole, Nylon Net
Mesh size: 0.98" x 0.98"
Steel Pipe Diameter: 9.8"
U-shape stake size: 1.8" x 9.5"
Frame: 1" diameter
0.03" thick black paint iron pipe
0.74" Dia fiberglass rod support

Features: 

Durable Material: With the construction of steel poles base frame, reinforced thick fiberglass pole uprights to all to absorb the impact of a golf ball. The net is designed to last a lifetime.

Unique Design: Corner-shaped structure and updated longer ground stakes for extra stability, unique tilt angle design, automatically returns the ball to the user, save the trouble of picking up the ball and no damage to golf ball wood/marble/tile floors.

Large Area: Hit each shot with confidence. Large area to collect every shot at a 10ft W x 7ft H width net area, give you plenty of room to hit any club from a driver to a lob wedge and hit the net.

Portable & Lightweight: It's lightweight and comes with its own carrying case, you can take it anytime, anywhere.Easy detachable design, fast setup/breakdown with no tools required.

Ideal For Use: You can use this net in the backyard, at a park, in a garage, in the basement, in any field.Perfect for all ages of men and women lovers and professional players, for the golf strike, skills exercises of the game.