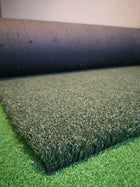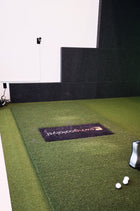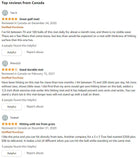 Model: True Feel Mat II 

Thickness: 1.25" 
Size: 4.92ft x 3.28ft / 59"L X 39.5"W(150 cm x 100 cm)

The Below Two Sizes are pick up only:

Pick up address:
26 Gormley Ct,
Richmond Hill, ON L4E 1A2
Canada

105*220cm/3.5*7.2ft
105*180cm/3.5*6ft

Get the feeling of being on your favorite course without ever leaving home or the office. The A99 Golf True Feel Hitting Mat has a true-turf surface that provides a real life feel of fairways or the tee box. The Mat is commercial range size and is made of durable material.

Features:

Thick and deep enough to hold one golf tee straight up. - Real golf tee can be used compare with rubber golf tee. Comparing to swing with traditional golf mat installed with rubber Tee either on golf simulator or in the driving range, obviously the rubber golf tee will affect the speed of the club head; with a piece of real golf tee on A99 Golf True feel mat, it will maximize the simulation of outdoor playing environment.

Premium Hitting Green Grass: Grass height about 1" in length. Thick high-density artificial grass for golf. - When you swing with irons, the ground (A99 True Feel Mat) allow the iron head "dig" in is amazing -- then there is chance for golf ball hit onto "the the sweet spot" , a great ball flight angle and distance can be realized; Meanwhile as the thick turf absorb lots of hitting power, it dramatically reduce the possibility of body injury.

A durable turf mat. Made of high quality synthetic material, superior resilience and durability

Constructed of the highest quality UV resistant polyethylene,ensure an extremely high-density artificial grass

Unlike regular golf mats, it absorbs the impact force of the swing, which significantly improves the swing performance.

Spring-set Grass

Comes with Ultra Long Black Rubber Tee

MULTIPURPOSE: We offer standard grass mat sizes and custom sizes to suit your grass needs. Use for indoor or outdoor golf practice mat, mini golf, gym, baseball, football sports ,school, or even as a backyard decor.

Package Contains:

Remark: If you want to use the 2pcs ultra long rubber tee enclosed with the package, you can add hole(s) at your desired position by using sharp tool (eg. knife) on the mat (from the back) -- the original hole made for rubber tee on the mat may not fit your need.

True Feel Mat Q & A

Q: How does it absorb miss hit power and reduce accident injury?

A: Due to the durability and thickness of the mat, if you were to chunk a shot, the mat would absorb a lot of the hitting power, and it would remain in good condition while reducing the risks of injury.