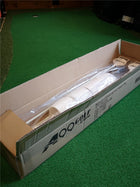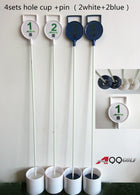 Model: A99 Golf Pin II Putting Flagstick w. Cup Set(4) plus Plastic Signs w. No. on

Length of the Pin: 93 cm
Color of the Pin: Blue/White, White
Color of Hole Cup: White
Diameter of Hole Cup: approx. 4.25"
Flagpole Hole Diameter inside the Cup: Approx. 2.8 cm / 1.1"
Height of Hole Cup: Approx. 4" (10cm)
Qty: 4sets 

Features:

Brand new golf flagstick w. cup set plus plastic sign(No.'s)

The pin measures 93 cm so there is no need to bend down to take it out the hole. 

There is a base on the pin so the ball rests on it when you put the ball in.

Take the pin out and the ball comes out too.

The hole is standard size.

Package Includes:

4 x Green Hole Cup
4 x Flagstick(random color)
4 x Plastic Signs w. No. 1 2, 3, 4 on.