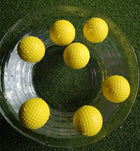 Model: Pu Ball

Material: PU Leather
Diameter: 42mm / 1.65in
Weight: 0.2oz (6g)/pc
Quantity: 12pcs/36pcs/50pcs/100pcs

Function:

PU golf ball  =  same size as standard real golf ball. This new golf ball is designed for serious golfers of all levels that demand tour-validated technology and performance. The golf ball provides long, consistent distance with the driver, while maintaining high performance into and around the green with drop-and-stop control.
PU simulation models a real golf ball, identical shape, weight, touch, feeling. Also works as a nice decoration or gift, it simulates the flight of the real golf ball and lets you practice anywhere.

Features:

Higher coverage dimple designed with new staggered wave parting line

Enhanced aerodynamics for long distance, drop-and-stop green side control

Integrated alignment guide for better accuracy

Low spin off the driver and long irons for consistent distance

Fast initial velocity with compression for outstanding feel

You can expect tour distance and precision control when using this ball

Safe and non-toxic

Scentless, and conforms to EN71 and CE standard

Can be used for collection, decoration and promotion gift

Swing Problems Can be Magnified
Practice balls travel less distance than normal balls, but they still mimic the flight of a regular ball. This applies to both foam and plastic practice balls. If you are hooking or slicing a shot, then it will be more noticeable. It is also easy to see if the ball went straight or flew to the left or right. This is one of the main advantages of using practice balls -- plus the fact that you don't have to walk hundreds of yards to pick the balls up.