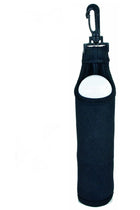 Model: Ball Washing Tube

Color: Black
Quantity: 1pc tube (exclude golf balls)

Feature:

Simple and Light Weight Golf Ball Cleaner!

The simplest way to make sure you always have a ball cleaner handy. 

It can attach to any golf bag or your belt loop and once moistened

Machine washable

Keep any golf ball shiny and new looking. 

It lift dirt, mud, and grass stains from the golf balls surface magically. 

User Instruction: Simply moisten the inside of the tube and then squeeze a dirty golf ball though it and watch it come out shining on the other side.