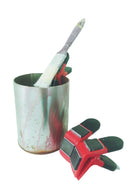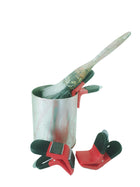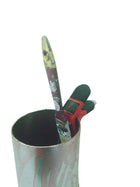 Model: Magnetic Paint Brush clip

Color: Red/Black
Material: Sturdy plastic
Wide: Approx. 3.2cm / 1 1/4 inches
Weight: 77g. total.
Quantity: 3pcs/set

Features:

Magnets attach to the brush's metal ferrule. Hold your paint brush in place, allowing paint to fall back into the paint can.

Magnetic paint can clip holds brush in either of two positions.Brushes can be held in a vertical or angled position

Includes built in paint can opener.

Suitable for most brush sizes

Holder clips onto the side of the paint tin.

Very useful tool for professional or DIYer painters.

It is washable.

Note: Can and brush not included.